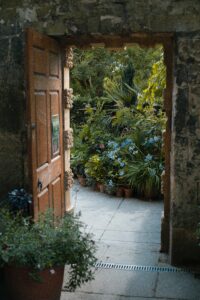 1-3 day long retreats for individuals and couples (existing clients only).
Over the last few years, I have facilitated numerous group events and retreats, as well as given hundreds of sessions to individuals and couples. This has enabled me to witness the power of having longer together, as well as focusing attention on the requirements of just one or two people. Thus, the intention for the retreats is to enable us to delve deeper together, opening the doors for greater relaxation, connection with self and long-term transformation.
I will structure the programme around your specific requirements, pick and choose from the following elements, and feel free to suggest your own:
Receiving bodywork

Relaxation techniques

Mindfulness & meditation

Massage skills

Expanding pleasure

Releasing stress/ trauma

Overcoming sexual dysfunction

Communication skills

Tantric philosophy & education

Learn tantric techniques for moving sexual energy through the body

Breathwork

Shadow work

Shamanic journeying
Please note, the focus of the retreats is on therapy & education, and no sexual services are offered.
Location: Teesside/ North Yorkshire or London preferred, other locations considered
Price: Starting from £1250 for individuals and £1850 for couples per 24 hour period; includes accommodation, food and any learning materials.
Please enquire for more information.
"The session with Tatiana Aitken has given me so much! Being a sexologist, I thought I knew a lot about my sexuality, I knew it would be a pleasure, but I didn't know the session would have such a healing effect. Thanks to her caring attitude, aware and very focused on the present moment eyes and confident body, I could feel very safe from the very beginning of the session. I appreciated very much the detailed talk at the beginning of the session – I could share my most important needs, what led me to work on them afterwards. Overall, since the session, I have been feeling definitely more liberated, more true and connected to myself. I feel I have more right to be myself (which wasn't the case before the session). I am very much grateful I could benefit from Tatiana's loving attitude and very professional skills." Marta Kosinska / sexologist, psychologist / Gdansk, Poland
"It is difficult to put into words how I felt after my second session with Tatiana. Wide open, spacious and blissful doesn't really do it justice… but hopefully it points in the right direction. Tatiana is a very genuine, skilled and experienced tantric body worker & healer and holds space in such an unconditionally compassionate way that I found it easy to allow and welcome and be spaciously present with whatever thoughts, emotions or sensations arose. The end result speaks for itself… I feel wonderfully light & free & in love with the world. Thank you Tatiana. I look forward to the next time :)" Stu C