Frequently Asked Questions (FAQ)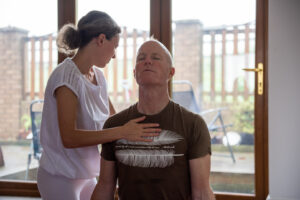 What does a typical session involve?
All sessions are different to suit the needs of individual clients. However, most sessions are 4-5 hours long and include a consultation after which you will be invited to take a shower followed by meditation, beautiful connection rituals and a combination of bodywork and massage. I use different techniques including de-armouring the body to enable you to release any tension and go deeper to access any old traumas which you may have been carrying around with you for decades. After the session you have an opportunity to relax and take some time to assimilate the experience before you head off.
Do I have to take my clothes off?
No. The sessions are client-led and I work to your level of comfort. I offer both clothes-on and clothes-off sessions.
Do you take your clothes off?
I work fully clothed.
Are any sexual services provided?
No sexual services are provided.
What are the opening hours?
Appointments are offered during the day. I work both during the week and weekends (but not every day – please enquire as to availability).
Are you medically qualified?
I do not hold any medical qualifications. Any client who may have an existing or suspected medical condition should consult their GP.
"Thank you Tatiana for a wonderful session. I felt relaxed, safely held and nurtured and you helped me uncover and release old grief from my body which had been there for many years." Anon
"From the start of my session Tatiana made me feel welcome and safe in the treatment room. Tatiana listened to me intently and understood the reason for my visit. Tatiana helped me relax through deep breathing and put me at ease, explaining how the whole session would progress through each stage. Throughout the massage Tatiana sought my acceptance as she progressed through the different stages. I felt very safe in her very capable hands. After the session I was so relaxed and felt a huge weight had lifted from me." Duncan