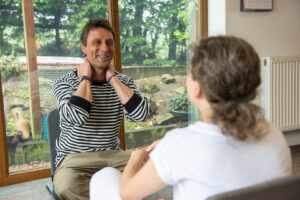 Tantric Massage for Men
Sessions for men can help with many issues. They are suitable for those wanting to overcome any sexual dysfunction, open up to more pleasure, learn more about Tantra or simply to relax and de-stress.
Please note, not everyone is ready to start with a session involving receiving touch. For some clients, having some shorter talking only or receiving light clothes on touch sessions first can be important. Please see the coaching page for more details.
Benefits
In addition to the things you can learn from these sessions listed on the treatments overview page, this therapy can help you with:
Inhibited ejaculation
Relationship issues
Low desire/ arousal
Low physical sensation
Expanding the orgasmic response beyond ejaculation

Circumcision trauma
A prostate massage is offered as part of the treatment. This is a place in the body which can hold a lot of tension. Regular prostate massage also helps to protect men from prostate cancer, along with regular exercise, relaxation and a healthy diet. Read more about the benefits of prostate massage for men.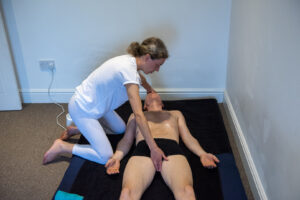 One of the aims of the treatment is to move the sexual energy inwards and upwards through the body. Hence, there is no deliberate ejaculation during the lingam massage. Instead, I will help you to learn how to separate orgasm from ejaculation. Please note that you will get the most benefit by practicing what you learn in a session in your own space, too.
Sexual Healing
Men can develop sexual dysfunctions for a number of reasons. Erectile dysfunction, premature ejaculation and inhibited ejaculation are some of the most common. The causes can vary from certain medications, diet, lifestyle, blocks in the pelvic area to psychological reasons. These can include cultural upbringing, emotional blocks and unpleasant past experiences – which may or may not directly relate to sexuality.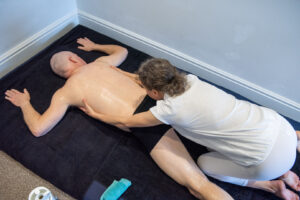 In the northern cultures especially, men have often been brought up to be ashamed of their feelings. It is common to believe that it is weak to feel or show emotions. As a result, many close off from intimacy and develop difficulties around expressing themselves. Being sensual and feeling pleasure in the body is generally considered feminine and many men can become disconnected from their bodies and their sexuality. Our culture tends to fear the expression of sexual energy, and some men can feel unsafe to express or feel their arousal.
Tantric therapy can help to explore sexuality in a safe space, without fear or shame. During the course of the session, I work with you to help to identify and clear any underlying reasons for the difficulties you may be experiencing. I also offer coaching to help you expand the amount of pleasure you are able to feel in the body.
Prices
3 hours £350
4 hours £400
I offer treatments in Teesside (TS12 area) and London (Bermondsey SE16).
Some concessions available for the low waged, please ask.
"Tatiana is an amazing human being and a compassionate, caring and extremely skilled professional body worker. The massage she offered me was one of the best I have ever received, and I had quite a few over the years. I had several very intense emotional moments during the session. Tatiana was simply amazing at holding the space, feeling my energy, opening up to meet my emotions and feeling exactly what I needed in each moment. I was astonished by how profoundly and beautifully she was able to do all that. I wholeheartedly recommend Tatiana to anyone wanting to experience a deep, connected, aware and fully present massage." Warmest hugs, Michael
"When I spoke to Tatiana on the phone her qualities quickly came to the fore; she listened to me and treated my issue with respect and the seriousness it deserved and was knowledgeable about it. From my original discussion I knew she was the practitioner I wanted to see. I have never regretted my decision. Her safe space is in her heart, and it makes every conversation natural and fun, instead of just being comfortable. Working with her has enabled me to start breaking down self-imposed barriers and just be me, as well as making huge progress with PE and lack of sensitivity. From where I was, to experience a lingam massage for 45 minutes plus, without ejaculating is incredible and I've experienced more sensitivity and pleasure than I thought possible. I can't thank you enough." Paul Campbell, South Lanarkshire, Public Sector
"Tatiana provided an experience that was entirely professional and full of care at all stages – from initial contact by email and phone and throughout the actual session. I was well informed and she enabled me to very quickly feel connected, safe and secure in her care. In the session, through discussion, touch and massage, Tatiana skilfully put me at ease to relax mentally and in my body, which then gave rise to a range and depth of sensations that I have not previously experienced and enjoyed. I was left with an overwhelming and lasting sense of love, peace and joy." Malcolm, Whitby