Tantric therapy for couples
Couples' sessions offer guidance, techniques and space to explore re-meeting as life partners and lovers. These sessions encourage you to shed resentment, shame, past problems and guilt. In their place, learn techniques for clear, loving communication, respectful resolution and the experiencing of sacred sexuality.
Whether you are in a new or existing relationship, couples' sessions can help you to improve and expand your relationship to its highest potential. Read about Introduction to Tantra for couples.
You may benefit if:
Your relationship has lost that 'spark' that you enjoyed when you first met
You are curious to discover more about Tantra and sacred sexuality
Your relationship is stuck in a rut / trapped in a destructive cycle
You feel unfulfilled and think, 'there must be more than this'.
It is easier for you to give love and pleasure than to receive it
You want to deepen and enhance your relationship and strengthen the physical and emotional bond between you
Enhance intimacy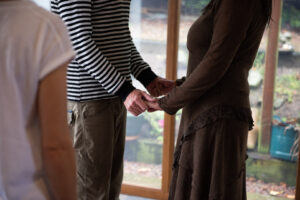 You will be offered advice and training on practices which free energetic pathways and clear emotional blockages in your bodies. These can prevent the flow of love, intimacy and trust between you. These practices are designed to strengthen your love and intimacy and teach you how to give and receive love as a divine union.
Free the flow of sexual energy
In longer term relationships it is easy to start taking each other for granted, have expectations and disappointments about each other. This behaviour can in turn lead to a lack of sexual desire or to a routine form of love making which leaves both parties ultimately feeling unfulfilled, misunderstood and dissatisfied. Many of the resulting communication and relating problems that stem from this dissatisfaction and poor communication will manifest in the sexual part of the relationship. This therapy for couples can help to unravel these often deep seated issues and help to resolve long held patterns of disharmony within the flow of sexual energy in your body.
Tantric theory and practice
Learn to connect the energy of sexuality with the energy of love. Nurture yourself, your partner and your relationship in a safe and loving space.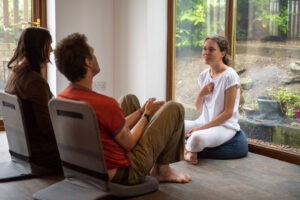 Choose to learn tantric breath practices, withholding ejaculation, techniques to awaken the woman, loving without expectation and loving communication. You can also learn yoni massage, lingam massage and other Tantra skills for spreading and generating sexual energy. This will help you to turn sex into love making and partnership into a sacred union.
Prices
I offer treatments in TS12 area of Teesside / North Yorkshire (within easy driving distance from Leeds, Newcastle, York, Durham) and London. Sessions are 4-4½ hours long.
£275 for one session (£350 in London)
£750 for 3 sessions (£950 in London)
Please note shorter or longer sessions may be available by request. Some concessions available for the low waged, please ask.
"The session with Tatiana was incredibly helpful and healing – me and my partner really felt our connection to each other deepen, and we learnt some amazing techniques we can use at home. It was 4 hours of indulgent and fulfilling "couple time", where we could be fully present with each other and enjoy our time together. Although we were apprehensive beforehand, it's actually fantastic to have a facilitator with you while you practice intimate exercises, to help you process any difficult emotions that come up. I would recommend these sessions to any couple who want to deepen their connection and experience a new level of intimacy within a safe and supportive space" Becki
"Tatiana was very caring and explained the session very well. She understands that this is a journey and is happy to be of service to help one progress on this path" (Anon)